Ultra Mobile Retailer Tax Promotion - Win a Free Year of Service

Please review Retailer FAQs below:
Q: Why is Ultra doing this promotion??
A: At this time of year many of our customers will be receiving their income tax refunds.  Often people use these monies to buy things that they need/ want such as a New or Used (new-to-them) phone.  With the added chance of winning a year's worth of free service, we are hoping the customer activates an Ultra plan with a new phone from directly from our Ultra Retailers! 
Q: What plan do they need to activate to qualify for promo?
A: The Customer can activate on any Ultra Mobile plan (Classic, Multi-Month or Flex) between February 18th and March 31st. Existing Customers that purchase a New/Used phone* during this promo period can also enter.
Q: When does the Promotion end?
A: The promotion ends on March 31st 2020. Customer must send in the text FREEYEAR to (714) 459-2264 by 03/31/2020 11:59 PM PST
Q: Does any new phone qualify?
A: Yes, as long as it 
has
 not 
been
 active on the Ultra Mobile network within the last 60 days.
Q: Can the phone be new to Ultra or does it have to be brand new?
A: The phone needs to be new to the Customer and not on Ultra in the last 60 days. We are hoping that the new phone is being purchased directly from our Ultra Retailers. 
Q: How will my customer be notified if they win?
A: We will notify the winning Customer via SMS to the number they submitted on their entry from.
Q: How will I be notified if my Customer wins?
A: We will email Ultra Retailer that activated the Winning Customer (so please ensure 
your
 email address is correct on 
your
 Ultra Retailer Portal - both under My User and My Company profile). Winning Customer must have 
been
 activated under 
your
 Ultra Retailer 1:1 code to qualify. 
Q: Can I check if Customer's device was used on Ultra recently?
A: Yes, we recently added a Device (IMEI) look up tool in the Toolbox section of our UltraAgents.com Retailer Portal.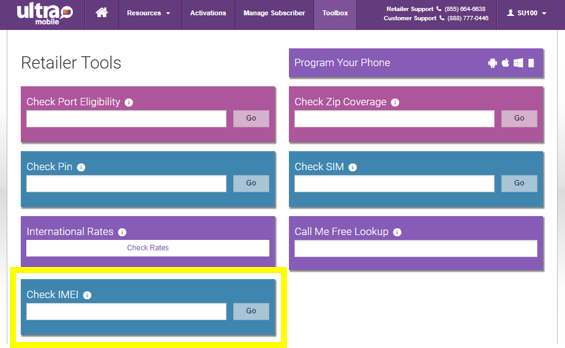 Use this tool to check if an IMEI was used on Ultra within the last 90 days.
*Eligibility requirements include the following:
Customer must be a new or existing Ultra Customer with a phone that hasn't 

been

 used on Ultra within the last 60 days or promo start date
Ultra reserves the right to change, modify, or terminate this program at any time.
Ultra 

has

 final say in all disputes and interpretations of the business rules.